Join the thousands who have transformed their lives.
Ultimate Impact is a unique, personal development mentoring program offering year-round teaching, guidance, and community. Be personally mentored by Dr. Jim and discover the transformation of a lifetime!
New Workshop
Enrollment is now open for a limited time.
Establishing Your Heart in the New Covenant
Session starts: 4/25/2020
Enrollment ends: 5/9/2020
Duration: about 16 weeks
The Bible provides one reason why believers aren't experiencing the promises of God: their hearts aren't established in the New Covenant. This means that there are only three prerequisites for participating in our New Covenant Inheritance:
Discovering the provision of the Covenant
When we know the provision of the Covenant, we know exactly what we can always expect from God.

Accepting the terms of the Covenant
The terms of the Covenant provide the basis for our qualification for all the benefits. It frees us from wondering and wavering.

Establishing these Covenant realities in our hearts
The heart is the missing element in modern Christianity. Everything God does in and through the believer happens in the heart. Establishing the heart is the key to unwavering, immovable faith!
Join me in this journey of Establishing Your Heart in the New Covenant where I mentor you along the way. As you participate in this interactive workshop, you will receive the following benefits and more!
Weekly LIVE interactive sessions with Dr. Jim, Team Impact, and Coaches!
Supplemental materials – including many of Dr. Jim's most popular titles!
Access to a private community of fellow believers making the journey with you!
Short Life Lessons to break up your journey into small, achievable milestones!
Opportunities for Real-Life Application to put what you've learned into practice!
Access to Heart Physics® Coaches to assist you!
About Ultimate Impact
For centuries, spiritual leaders have felt that they should present a façade of perfection under the misguided belief that it would inspire believers to trust them. Dr. Jim does not share that belief.
I created Ultimate Impact so I could coach and mentor believers who refuse to remain stuck in their failures or limitations. I want to inspire and equip believers to a life without limits.
"I think the façade of perfection discourages the average believer, causing them to disqualify themselves from the promises of God. I have faced and conquered life-threatening diseases, financial ruin, destructive life decisions and much more. I'm not a leader because I've always gotten it right; I'm a leader because I know the way out!"
There are no perfect people, but there are overcomers. An overcomer is a person who faces a challenge and overcomes. It doesn't matter if the challenge you face is of your own making or something over which you have no control; in either case, Jesus has made a way for you to have a life at its best (abundantly). I want to help you enjoy the life for which He paid such an incredible price!
The word "inspire," actually comes from the term "in Spirit." What we call inspiration is very often when we have an awakening to all the possibilities we have in God! What begins as inspiration that turns into imagination is a form of Biblical meditation. We imagine what our lives could be like if we were really experiencing the promises of God!
Imagine for a moment what it would be like to connect with God in a deeper way, experience healing in relationships, receive job opportunities that you enjoy, break through financial limitations, live in vibrant health and energy. Imagining the promises of God, through Jesus, is the pathway to limitless living. Imagining bad outcomes of hardship and limitation is a vain imagination!
If you want to live the best quality of life possible, I will help equip you. I will share the Biblical realities I trusted and applied to walk out of pain, suffering, and heartache.
Ultimate Impact is a Biblically-based mentoring program for believers, serious about taking hold of the life Jesus died to give to all!
Every week:
you will participate in a live group mentoring with Dr. Jim
teachings are broken down into small, incremental steps
the Word of God will become practical
you will grow in your insights and understanding
You will participate in a private group where it's safe to:
Ask questions
Share your successes and challenges with others
Witness the testimonies of believers making the same journey
Reach out to a Heart Physics® Coach
Provide your input when requested for special events
Our students say it best
This session, Establishing Your Heart in the New Covenant, features Dr. Jim's international best-seller, The Gospel of Peace.
My daughter gave me two books, "The Gospel of Peace" and "Breaking the Cycle."

Both books are so good I have read them over several times. Jim's books have really helped me to realize that I don't have to do anything else to measure up or to receive any of Gods promises. Believing in Jesus has qualified me for all the promises of God in Christ Jesus.


Hi, Thanks so much for the eBook, The Gospel of Peace!  I love it!  I also love listening to all your videos and audios from your website. 

They're awesome and just what I've needed in this long transition after full-time mission work.  I discovered you when you taught How to Stop the Pain at Gateway Church.  I'm so thankful for all that you're sharing with the body of Christ.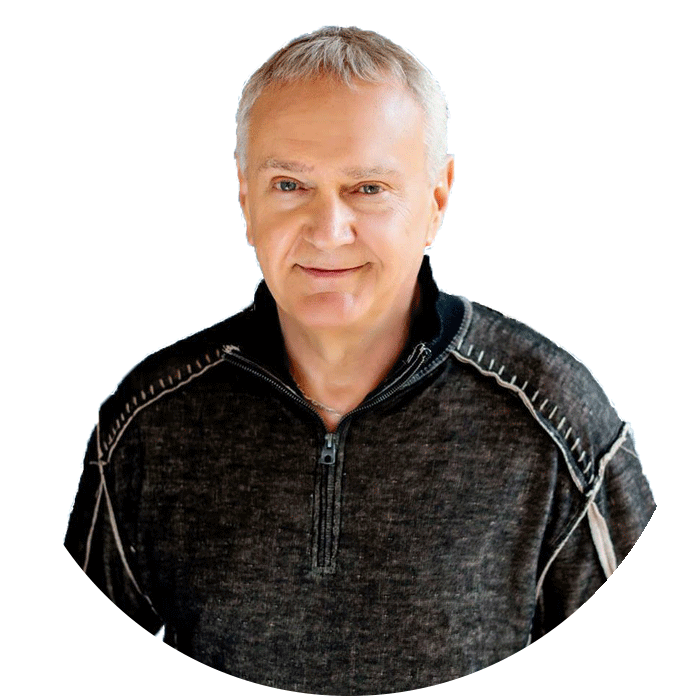 About Dr. Jim
Dr. Jim combines spirituality, energy medicine, scientific concepts, and human intuition into a philosophical approach that aligns spirit, soul, and body, resulting in incredible health, emotional, financial, and spiritual breakthroughs.
He holds four advanced degrees in Theology, Alternative Medicine, Human Behavior, and World Evangelism. This training, plus nearly a half-century of personal ministry, counseling, pastoring, coaching, teaching, consulting, and motivational speaking gives him the ability to communicate very complicated issues in the most practical, easy to understand manner.
Dr. Jim is also an entrepreneur who has built several successful businesses ranging from contracting to real estate to marketing. As a national best-selling author, Dr. Jim Richards has written several books that have sold several million copies around the world.
Enrollment is closed
Register now to be alerted when the next session starts!
Join the Ultimate Impact community and make the journey with thousands of others.
Enjoy being part of a live mentored group of believers just like you
Be safe asking questions, sharing struggles and victories, and asking for help
Interact and learn with other believers as you witness their struggles and victories
Have the supplemental resources needed for this stage of your journey